Say no to porn?
It was a nice day,so i decided to go to my cousin brother house at seri kembangan,Serdang to pay him a visit.On the way, something interesting caught my attention at the toll station near the Mine resort.....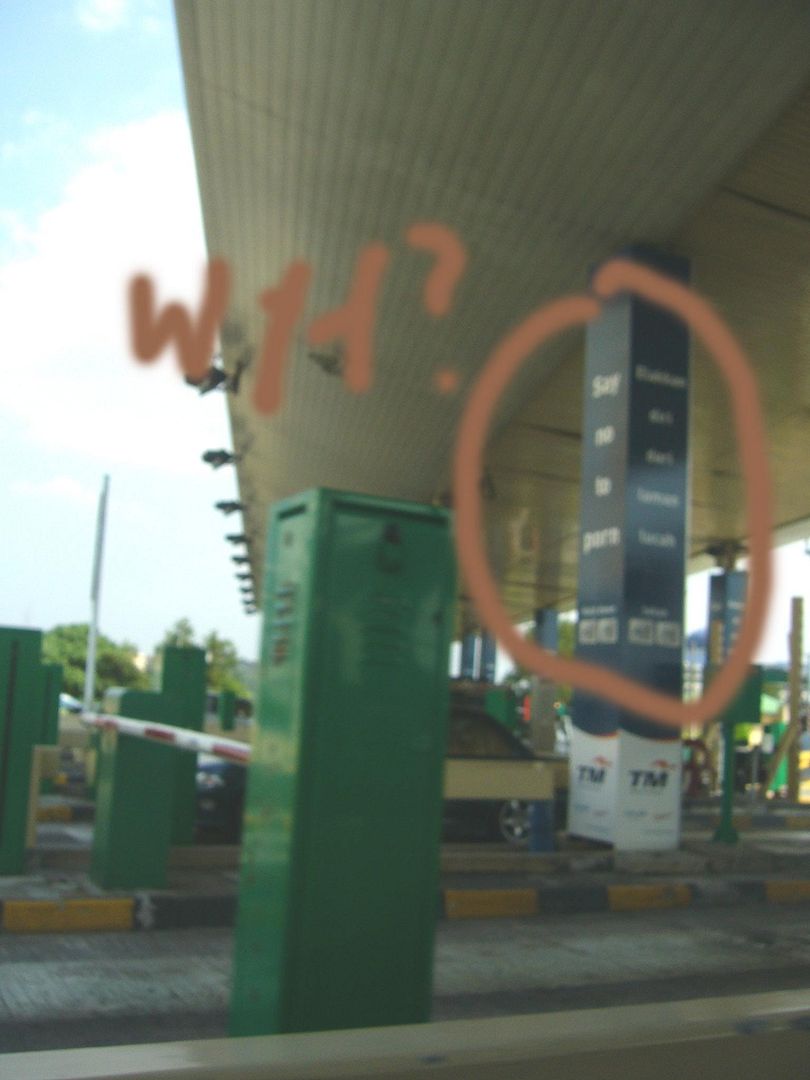 Say no to porn?...LOOK INTERESTING!! I was so curious untill i went to check out their website (just to see wat lanciao speech they going to give about porn)..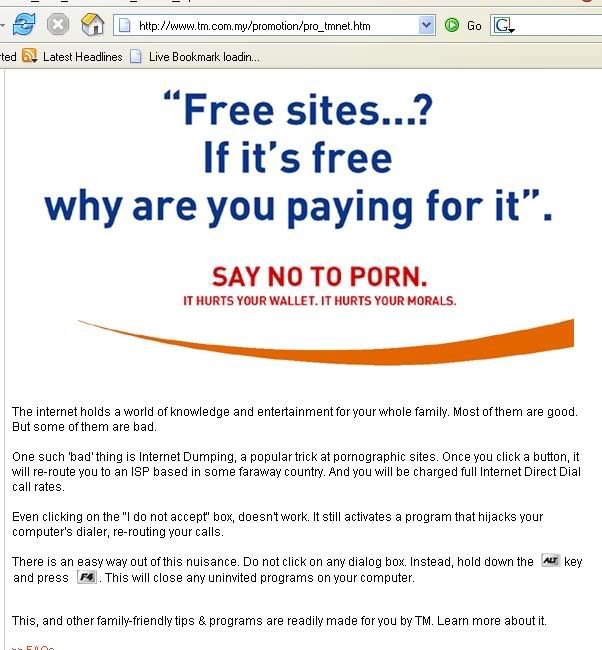 Wat is their exact purpose of saying NO to porn thru mass media BUT NOT DOING ANYTHING TO PREVENT IT FROM HAPPENING?
Obviously,tmnet is fucked up enuff to be called as a lanciao internet service provider,needless to say, their business on internet is not growing.They are fucked up enuff to say they will provide 1mphs connection with a cheap price,but in reality they only provide u with a 56kphs speed and constant crash internet connection.Just with that, tmnet had ticked off heaps of ppl in malaysia including me,and shattered all my trust on tmnet,(FUCK MAN,JUST LIKE TAT... OUR broadband lose to singapore liao..diu).
Somehow,u gotta respect the marketing director in tmnet.Recently, tmnet had invested more on mass media advertisement..GUESS WAT?..it managed to con those Ah SEM, AH PEK , SoHAI, computer noob,...u name it,but not the smart people,example: AH LAN.
At first, i didnt believe it works,but after overheard some ah sems conversation at the PASAR PAGI at Kepong, it really shocked my LAN out..
AH Sems:Hoi XXX, my son are want to get pok bang ar..pok bei or pok ban
ar..u know ar?
XXX: Oh, u mean STink ASS

(streamyX in cantonLISH)

POK BANG
(broadband)
ar?
AH Sems:Yalar, they good ar?..i heard there also got TIMEnet..
XXX:Stink ass betta, they got thing tat dont let ur boi boi go to those hamsup webby one..but time net dont have alr
AH Sems:YAU MO KAN ZHANG?(got so true meh?) Like tat i want to get my zai zai lor,.......
Saw tat?
Those computer illiterate ah sems ,ah peks easily got deceived by that stupid say no to porn advertisement.
Here another stupid senario caused by their stupid advertisement on RADIO.
According to the advertisement,it said tat tmnet service and building and work place had improved greatly.
SOHAI: Hey xxx,i think i wanna apply for Steam ASS ar...
XXX:Why? Sohai, timenet is good wat ...
SOHAI: No lar,timenet expensive and they only give u 284kps for 88,but Steam ASS give u 1mps for 78.
XXX:Where got?the support service is very slow one ler ..i heard from my friend..
SOHAI: Wat lar u ..never listen to radio one ar?..they say they improve liao ....even my friend who work at tmnet company say they improve liao..Their toilet now ar..MOU TAK Deng ar..Very clean and it smell very good u know?...............................................
HOW SAD IS TAT???They still give out shitty service,i just asked when they are coming to hook up the streamyx in my workplace, they say they will come next week , around the 5th day or the 6th day..TURNED OUT TO be THE 5th month after i placed the order they only come and fix.As usual, internet connection is still so slow, and constantly crash....What a shame?
I wonder when tmnet will spend their money wisely to fix the problem,instead covering it up...wat a dissapointment,yet i still have to say
"MALAYSIA BOLEH!"